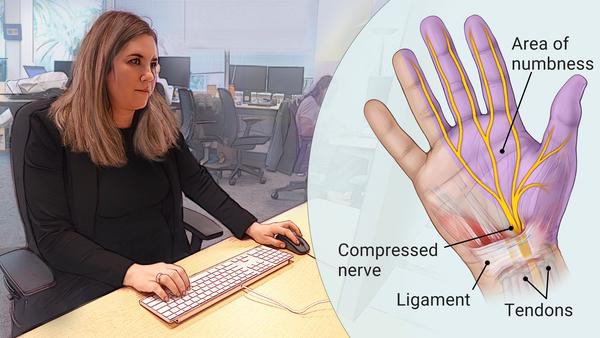 SERVICE OVERVIEW
Carpal Tunnel Syndrome (Median Nerve Compression) is a common condition affecting patients of all ages. It occurs when the median nerve, one of the main nerves in the hand, is pinched in the narrow passageway in the wrist, on the palm's side. This narrowing is due to swollen tissue, which puts pressure on the nerve.
It causes numbness and a tingling sensation in the hand, which often stretches up the arm. Patients might experience sudden shock in the hand, and weakness or clumsiness.
The condition is often heredity, in which case the patient's carpal tunnel is simply narrower than other people's. Repetitive hand use or doing activities that involve extreme flexion or extension of the hand (for prolonged periods) is often the main cause. Health conditions, like diabetes, rheumatoid arthritis and thyroid gland imbalance, as well as hormonal changes during pregnancy are associated with carpal tunnel syndrome.
If left untreated, symptoms might get worse over time and the nerve might get damaged permanently. Simple measures, like wearing a wrist splint and knowing which activities / movements to avoid will greatly relieve the discomfort.
Image Sourced